7 Things to try if Litchi will not connect to Mavic Mini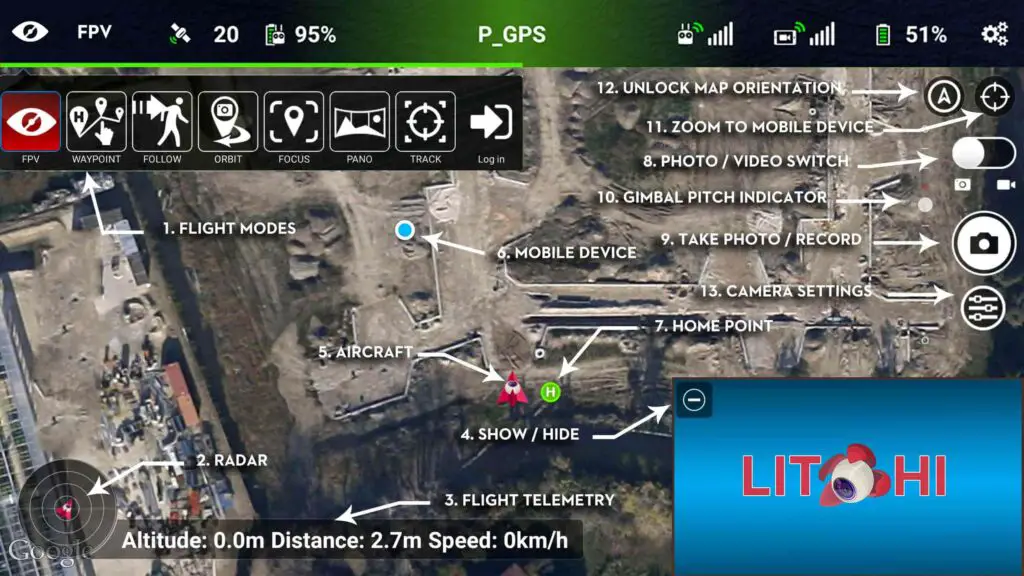 Mavic mini has been the most problematic drone DJI has ever made. To keep the weight under 250 grams DJI had to make different prototypes of different parts, which led to causing a lot of problems, both software and hardware.
I had this issue where Mavic mini won't let me connect to litchi so I went on the internet to find a solution apparently a lot of people have the same issue but no one seems to know what the problem was, then I contacted litchi then DJI but they didn't care to answer, anyways after reading some forums, I found out what the issue was, ironically it very easy fix and so I thought I could share the information.
So why is this happening and how do you fix it?
If your Mavic mini is not connecting to litchi on an android phone try force stopping DJI GO in settings and reinstall litchi. Also, refresh your controller and aircraft's firmware in DJI assistant or do a factory reset if nothing seems to work.
so first let me show you how to connect your mini to litchi, then I will mention some troubleshooting methods to use if you are not successful while trying to connect
How to connect your mavic mini to litchi
First, ensure you are using the latest DJI firmware on both your aircraft and remote, if you don't have the latest version you can update the firmware using DJI Go or DJI Assistant 2.
For the remote controller with a USB connection follow these steps:
Make sure no DJI-based apps (including DJI Go, including any other third party DJI drone/osmo apps) are running in the background. If there are any, force stop them.
If you have another app (such as DJI Go) set as the default for the remote controller USB connection, you will need to clear the defaults for that app in your mobile device (Settings – Apps – DJI Go (or other app name) – Clear Defaults). Please note that with Android 6+, some devices automatically set the app you start as default, so this step needs to be done everytime you want to switch app (for example from DJI Go to Litchi and vice versa)
Start your aircraft and remote controller, and let them initialize for a few seconds
connect the remote controller into the mobile device(with a functioning cable)
You will see a popup asking which app to start, select Litchi in the popup to initiate connection
EXCEPTION to the matter of having Go 4 along side Litchi: Known issue For Samsung Galaxy S5, Xiaomi Mi5 and LG G4 devices running Android 6+, connecting to Litchi with any aircraft model (DJI Go, or other third party DJI apps must not be installed on the same device).
If you follow every step exactly as shown and your Mavic mini does not connect, try the following troubleshooting methods
1. Refresh firmware in DJI assistant 2
Power on the drone
Connect it to your computer using the USB cable DJI provides
Open the DJI Assistant 2 software on your laptop
Log in to the DJI Assistant 2 app and select your drone
Next, you will see the firmware version
Tap update and choose the latest version
If it is already the latest version click refresh
Repeat process with other batteries(if you own one)
2. Update/refresh Controller Firmware
The Drone's and the controller's firmware must match so after refreshing or updating your drone's firmware you should do the same for the controller.
so to update/refresh your RC's firmware-
Power on the remote controller
Connect it to your computer using a USB cable provided
Open and log into the DJI Assistant 2 software on your laptop
 Select your drone's remote controller
Next, you will see the firmware version
Tap update if you have an older version or tap refresh if it is up to date
Click on "Start Update"
On the next screen, you will see the firmware being downloaded, then transmitted and updating the remote controller
At 100%, you will see the message, "Update Complete"
After the firmware is complete, the controller will restart automatically
3. Downgrade firmware
If refreshing the current firmware doesn't seem to work and the issue doesn't seem to go, you can downgrade the firmware till the next update comes out
You can downgrade your firmware both in DJI assistant and DJI go 4.
To downgrade firmware in DJI assistant–
Power on the drone
Connect it to your computer using the USB cable
Open the DJI Assistant 2 software on your laptop
Log in to the DJI Assistant 2 app and select your drone
Next, you will see the firmware version and older versions lined up
Choose the version one below the current version you have
Then click install
Then the drone will automatically restart
To downgrade firmware in DJI go 4
press and hold the menu icon (three horizontal lines in the top right corner) for five seconds and a special firmware menu appears. You can now select which previous firmware version you would like to downgrade to. Check it out.
It is better if you downgrade with DJI go 4 because the controller will follow automatically.
If you downgrade in DJI assistant you most likely have to do the same with the controller
4. Recalibrate the compass
Recalibrating compass and IMU can also be very helpful for an autonomous flight so try doing those
Turn on your Mavic Mini and the DJI go 4 app in the Remote Controller.
Go to the menu in the top right corner.
Then go to the drone tab on the top left.
Go to Advanced Settings at the bottom.
Then go to Sensor State.
Select "Compass" in the top middle.
And tap "Calibrate Compass".
Then follow the onscreen instructions.
5. Calibrate IMU
After compass calibration calibrate the imu.
Go to an open area outside, away from metal structures, cars and such.
Turn on your Mavic Mini and the DJI go 4 app in the Remote Controller.
Tap on the 3 dots in the top right corner.
Tap on "Safety".
Scroll down to the "Sensors" section.
Select "Calibrate" to the right of the Compass.
Click on "Start".
The status indicators lights will blink yellow indicating that the calibration is about to start.
Then follow the onscreen instructions.
Hold the aircraft horizontally and rotate it 360 degrees in the clockwise direction.
When the Mavic Mini indicator light changes from yellow to solid green then move on to the vertical calibration.
Hold the Mavic Mini vertically with its nose pointing upwards and rotate it 360 degrees around its vertical axis.
The Mavic Mini indicator will turn from yellow to solid green when successful.
When both horizontal and vertical compass calibration is completed successfully, the indicator light will start flashing green.
6. Clear cache
To clear cache go to DJI Go 4 app, click on the settings three dots, under "General Settings" you can see the video cache settings. You can select to "Clear Video Cache" here and free up a lot more space on your device.
If none of the methods above work for you, your last option is to factory reset your drone.
7. Factory reset your drone and controller
If nothing seems to fix the quick shots try factory resetting your drone
First, Install the DJI Assistant 2 Program on your device, make sure you download the proper one.
Connect your drone to your laptop using the USB cable provided, and wait for the software till it to detect your drone
You'll be able to see your drone on the Connected Devices screen. Select your drone and then click on confirm.
Click on Firmware Update. After that, you'll be able to see the "Restore factory defaults" button.
Click on the factory reset button and then confirm when you are asked to confirm the reset. A progress bar will pop up showing the progress of the reset. You'll be notified when the reset is complete.
Note: After a factory reset you have to calibrate everything again.
Finnaly hard reset the controller
To reset the RC: Turn on the controller, the aircraft should be off. * Press C1, C2, and shutter (top right button nearest antenna) on the controller and hold for about 2 seconds or so until it beeps (D-DDD), then turn the controller off."