DJI FCC and CE- How to swap from one another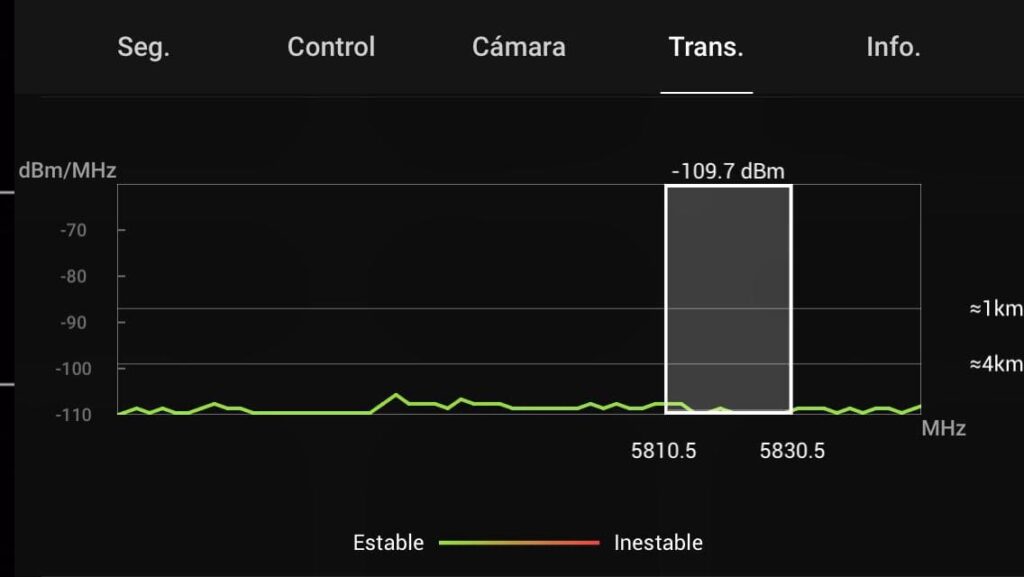 United Kingdom and United States usually have different standards for different things, and other counties usually follow one or the other, and this is a typical example of that.
so what are FCC and CE?
DJI drone's FCC(Federal Communications Commission) and CE(Conformité Européenne) are referring to the signal strength used to connect the controller to the aircraft. FCC is the American standard it allows longer range, and CE is the standard for European countries and has a much shorter range.
Is your drone FCC or CE?
No matter which certification type the country use, DJI manufactures their drones using the standard of that certification. They just make sure the maximum transfer power of the remote controller applies with the local law. The maximum transfer power of the drone is decided by DJI and but can restricted by the local law.
In other words there isn't a separate CE and FCC version on DJI drones. The mode of the drone is determined by the location of the drone (via GPS) at the point of the start-up.
Except for the first Mavic mini. to bring Mavic mini under 250 Grams DJI have left out a lot of very important parts and so they made separate CE and FCC drone, however that is discontuide and DJI don't make those no more.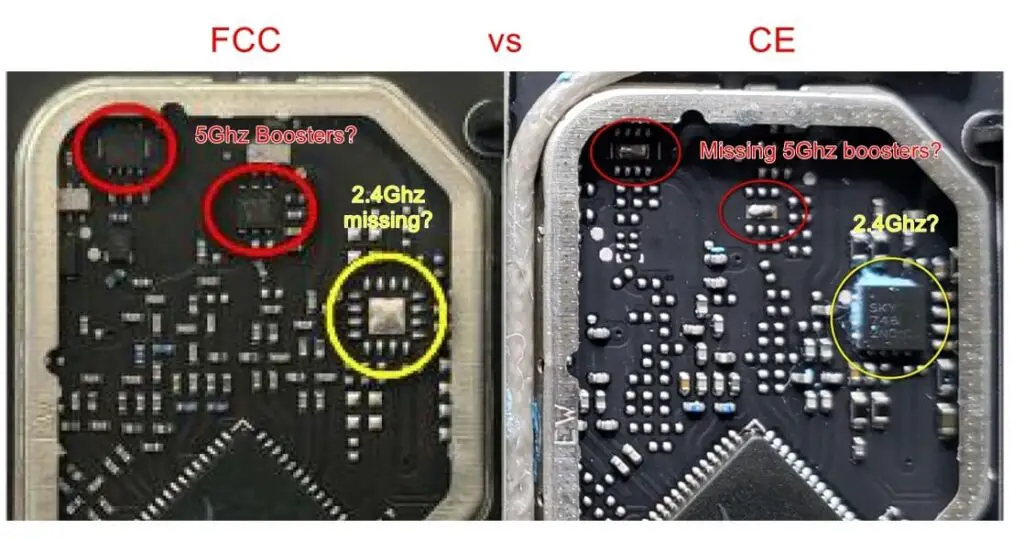 There was this picture on a lot of forums claiming DJI drones sold in Europe(CE) lack some hardware, and that I am not sure if the claim is true I asked DJI support if they know anything about it and they know nothing about it so it is probably not true.
And even it is true it is only on the original Mavic mini.
So, for every other DJI drone there is no separate CE and FCC version, They support both 2.4 GHz and 5.8 GHz simultaneously, and In areas that support both frequency bands they switch to the optimal frequency band and channel according to the signal conditions.
Note: some countries support both modes in different locations, however it is not like your drone with change from CE to FCC mid air, if you want to change the mode you have to restart the drone
How do I know if my DJI is FCC or CE mode
The easiest way to know whether your drone is in FCC or CE mode is to look at the 'Transmission' tab in the DJI go 4 app, If it's in FCC mode then you'll see 11 WiFi channels, If it's running CE, then you'll see 13 WiFi channels.
you can also look at the signal graph, you can see that there are two horizontal lines, one for the "~1km" and one for the "~4kM", If you are in CE mode, the "~1km" line is just under 90 dBm/MHz, so between 90 and 100 dbm/MHz, and the "~4km" line is between 100 and 110 dBm/MHz.
In FCC mode, the "~1km" the line is between 80 and 90 dBm/MHz, and the "~4km" line is just upper 100 dBm/MHz, so between 90 and 100 dbm/MHz.
How to change from CE to FCC
First, you should understand it is not legal to use FCC in CE contries, however the reason people prefer FCC or CE is because it has a much stronger connection and stablity.
So i suggest you use FCC in CE countries but make sure you abide to the law.
Here is a list of countries and the standard they use if you ever want to travel
| countries | Certification type |
| --- | --- |
| Albania | CE |
| Andorra | CE |
| Angola | CE |
| Argentina | FCC |
| Armenia | CE |
| Australia | FCC |
| Austria | FCC |
| Azerbaijan | CE |
| Belarus | CE |
| Belgium | CE |
| Bolivia | FCC |
| Bosnia and Herzegovina | CE |
| Brazil | FCC |
| Bulgaria | CE |
| Caledonia | CE |
| Cambodia | FCC |
| Canary Islands | CE |
| Chile | FCC |
| Colombia | FCC |
| Costa Rica | FCC |
| Croatia | CE |
| Curacao | FCC |
| Cyprus | CE |
| Czech Republic | CE |
| Denmark | CE |
| Dominica | CE |
| East Timor | CE |
| Ecuador | FCC |
| Egypt | CE |
| Estonia | CE |
| Finland | CE |
| Georgia | CE |
| Germany | CE |
| Ghana | CE |
| Greece | CE |
| Guam | FCC |
| Guatemala | FCC |
| Honduras | FCC |
| Hongkong | CE |
| Hungary | CE |
| Iceland | CE |
| India | FCC |
| Indonesia | CE |
| Iran | CE |
| Iraq | CE |
| Ireland | CE |
| Israel | CE |
| Italy | CE |
| Japan | CE |
| Kazakhstan | CE |
| Kuwait | CE |
| Laos | FCC |
| Latvia | CE |
| Lebanon | CE |
| Lithuania | CE |
| Macao | CE |
| MacedoniaFrance | CE |
| Malaysia | CE |
| Maldives | CE |
| Malta | CE |
| Mauritius | CE |
| Mexico | FCC |
| Moldova | CE |
| Mongolia | FCC |
| Morocco | CE |
| Myanmar | FCC |
| Namibia | CE |
| Nepal | CE |
| Netherlands | CE |
| New Caledonia | CE |
| Nigeria | CE |
| Norway | CE |
| Pakistan | FCC |
| Panama | FCC |
| Paraguay | FCC |
| Peru | FCC |
| Philippines | CE |
| Poland | CE |
| Portugal | CE |
| Puerto Rico | CE |
| Qatar | CE |
| Romania | CE |
| Russia | CE |
| Salvador | FCC |
| Saudi Arabia | CE |
| Serbia | CE |
| Singapore | CE |
| Sint Maarten | FCC |
| Slovakia | CE |
| Slovenia | CE |
| South Africa | CE |
| South Korea | CE |
| Spain | CE |
| SriLanka | CE |
| Sweden | CE |
| Switzerland | CE |
| Taiwan, China | FCC |
| Tanzania | CE |
| Thailand | CE |
| Turkey | CE |
| U.K | CE |
| UAE | CE |
| Ukraine | CE |
| United States | FCC |
| Uruguay | FCC |
| Uzbekistan | CE |
| Venezuela | FCC |
| Vietnam | FCC |
| New Zealand | FCC |